Established 1977
Guitar Pro Set-up Specialist and Repair Service by Andy Farrell
Just 5 minutes from M1, Junction 26
email - andyfarrellguitar@yahoo.com
Andy Farrell is an independent time served luthier specialising in guitar repair and maintenance, having worked alongside hobbyist and professional guitarists for over 40 years.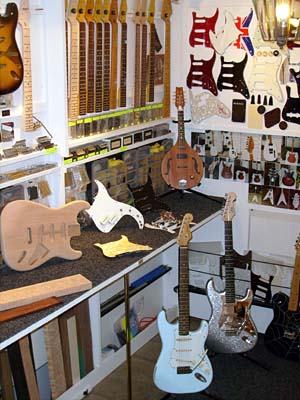 Click on the above for a larger image
Catering for guitarists needs from a players perspective, offering an attractive trade level pricing policy direct to the public, WHY PAY MORE !
Not to be confused with often expensive high street services carried out by in house amateurs claiming to be trained luthiers. I do not stock or retail musical equipment therefore I am not a shop, all work is carried out exclusively by myself, I do not employ outworkers or third parties of any kind, nor do I post spoof reviews of my work in order to boost internet ratings, I have no affiliations with retailers, private individuals only.
As of January 2018, I no longer produce hand made instruments, guitar necks, plastic pickguards, apply sprayed paint or repair / install active electronics
I will continue to offer passive electric's repairs and installations, fix headstock breaks, re frets, light restorations, and hardware installations / upgrades etc.
This change will allow me more time to concentrate on the ever increasing demand for my all inclusive sustainable low carbon Pro setup service,with an emphasis on bringing tired guitars back to life without costing the earth ( a genuine alternative to the forest depleting box shifting culture ). I have retained images of past custom work live on this site as proof of my capabilities as a genuine time served luthier / guitar technician
BUSINESS TERMS & CONDITIONS
Opening hours
Opening times are variable, please phone for details as unauthorised internet info is misleading, appointments are strictly by appointment only with no exceptions, I do not arrange appointments by E mail. please leave a voice mail if I fail to pick up I will return your call a.s.a.p
I ACCEPT ONE ADULT PERSON ONLY INTO MY WORKSHOP PER APPOINTMENT WITH NO EXCEPTIONS.
Security
Please be aware that operator monitored digital audio and visual surveillance equipment is active at all times inside and outside my premises, all data and images generated are erased on a daily basis to protect customer privacy.
Parking
Yes.
Toilet facilities
None.
Payment
Cash on completion/collection.
Bus service
Rainbow 1 leaves Nottingham Victoria bus station every 10 minutes, about 25 minutes to Kimberley.
Directions to my workshop are available at GOOGLE guitar repairs Nottingham.